NAB Electronic Media Show Report
Mike Fanous (Freelance Writer/Photographer, Los Angeles, California)
---
This year's NAB Electronic Media Show, April 24-27 at the Las Vegas Convention Center, showcased some amazing technology that will pave the road to a 'New Frontier' in media. My journey started in the South Hall with a virtual stream and ended with a mobile stream.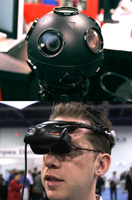 Immersive Media showcased their "GeoImmersive Video" system. With a portable, high resolution, 11-lense spherical digital camera, video is captured in 360 degrees, putting the audience in a "full-motion spherical world." In order to enter this spherical world, the user must wear special goggles.
I gave "GeoImmersive Video" a shot, and put on the goggles. I was instantly taken to a calm, scenic stream somewhere in the mountains. Audio would have definitely enhanced my trip, but it was still pretty realistic. I turned my head left and right and started to take a liking to this peaceful, digital place. Then it was time to get back to reality in Vegas. The thought of the stream was still floating in my head, so I figured I would journey forward, to a Michigan based company called Leightronix.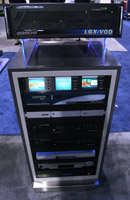 Leightronix displayed their "Video On Demand' system for streaming large amounts of video to the world through the web. The system automatically takes video, performs all the necessary compression and allows 4,000 hours worth of video to be streamed in real-time to an audience that can watch it online on their computers, on demand in DVD quality resolution. The software enables you to create an automated daily schedule of programming to be sent out via e-mail to the viewers.
Leightronix doesn't have an official price for the system yet, but estimates the cost to be about $50,000 US dollars, and you need a T3 connection. That's not too bad for a machine that has the power to run an online television network. The idea sparked a light in my head as I ventured on with a buzzing Blackberry. It was a text message from my friend about an Ultra High-Definition TV System in the south side of central hall.
After a 30-minute walk, I hit NHK's Ultra High-Definition TV. There was a big line, but a friendly NHK staff member escorted me inside their theatre for a glance at the future. What I saw was visually brilliant. The screen was over 10 feet wide and the picture quality was unlike anything I have seen. The colors were vibrant, natural and calming on the eyes.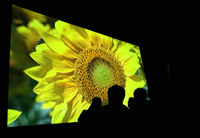 The resolution of the Ultra High-Definition TV is an outstanding 7680x4320 with a 16:9 aspect ratio and a 100 degree viewing angle. The 22.2 multi-channel audio integrated in the system made the viewing experience superb.
Just next to the Ultra High-Definition TV was NHK's 3D High-Definition system. The viewer wears a pair of plastic 3D glasses and the HD images literally shoot out at you.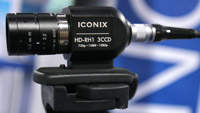 With HD in my mind, I entered the camera section and was introduced to the HD-RH1, by Iconix, the "Worlds Smallest HD Video Camera." The 1/3" Progressive 3CCD HDTV Camera weighs a light 2.3 ounces and offers a resolution of 2048x152, a lot of power in a compact package.
As I made my way back around to the south hall, I discovered another compact device with a lot of power, Niagra's GoStream, a light-weight, rectangular gadget that gives you the power to stream wire-free from anywhere with a wireless network, with just a push of a single button. There's also an optional backpack for streaming on the go.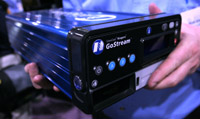 The device has several video and audio inputs that allow to stream live from a digital camera, video deck, computer, etc. A dock that allows you to stream video content from your iPod or Zen is included. GoStream supports Windows Media, RealVideo, MPEG-2, H.264 Flash, AVI and runs on a rechargeable 12VDC battery pack. The cost is estimated at about $7000 US dollars.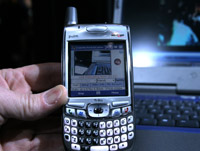 If you thought GoStream was hot, PocketCaster by ComVu takes mobile streaming a step-further and allows you to stream mobile video with a small, wireless camera and view the content mobile, through a Treo, or other palm device. The possibilities are endless.
As I walked out of the Las Vegas Convention Center and into my taxi back to the lovely Comfort Inn, I thought about all this new technology and its potential for business growth. Then my blackberry started buzzing again. My friends were inviting me to go play poker with them at the "New Frontier" Casino on the strip. "Hmmm, I guess that's another way to make money."