A Day in Anime: The Anime Expo 2006
Mike Fanous (Freelance Writer/Photographer, Los Angeles, California)
---

This year marked the 15th Anniversary of the Anime Expo, held July 1-4 at the Anaheim Convention Center in Anaheim, California. The expo broke their attendance record with an all-time high of over 42,000 guests.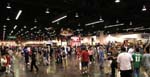 This colorful event attracted zany creatures and characters from all over the universe. Without these dressed, obsessed Anime enthusiasts, the Anime Expo would have been a bit on the bland side.


Jae Lim and Duo Ray showed up as a Ninja duo ready to "fight the pirates." Their anime favorites are 'Gravitation' and 'Hellsing'.
"Gravitation is good because it has a great storyline and it's really realistic," said Ray. "Also, I really like J-Rock (Japanese Psychedelic Rock) and the use of it in Gravitation."
Gravitation is a modern, J-Rockin' Tokyo comedy love story that revolves around a new Japanese rock group called 'Bad Luck'. The lead singer, Shindou Shuichi, meets a cold-hearted, mysterious stranger named Yuki at the park and quickly becomes obsessed with him. The two males become romantically involved, disgruntled lovers. This gay anime style is called 'Shounen-al anime'. Although distasteful to some, the material features some of the most hip, hellish J-Rock music singers and DJ's.
Unlike the traditional 'chop-chop' Samurai style anime, Hellsing (from the classic Van Hellsing) is about a top-secret British agency that protects the country from vampires and other evil entities. The main character is a witty woman who goes by the name Sir Integral Wingates Hellsing. She heads the agency and fights the vampires with her secret weapon, Alucard, a very powerful vampire with advanced artillery.
"The artwork of Hellsing is what attracts me to it," said Lim. "Most of the animation you see is very smooth and flowing, but Hellsing is different. The editing style is more choppy and realistic, said Lim.
Themes of vampires and J-Rock continue to roll-on in anime such as 'Gankutsuou: The Count of Monte Cristo' and 'Danny Phantom'.


"Gankutsuou: The Count of Monte Cristo is my favorite because of its classic storyline and ground-breaking artwork," said Jinyo, who wouldn't reveal his full name. "The look is psychedelic and the texture in the animation moves independently. The clothing texture is detailed and the music is great."
Gankutsuou is based on Alexandre Dumas' classic novel, 'The Count of Monte Cristo,' which became a movie in 2002 starring James Caviezel. The anime series is different, however, in that the narrative steers away from the original, with the story being told from the perspective of Albert Montego.
The anime series is set in the distant future with cities in space like Luna, a city on the moon. This stellar science-fiction setting, fused with edgy, gothic animation and a J-Trippin' soundtrack makes for a modern animation masterpiece.
Music appreciation in anime is causing a major buzz among young enthusiasts. Ember, whose real name is unidentified like a flying object, is an electrifying punk-rock girl with aqua-blue colored hair and a blazing, blue-laced purple guitar from the ghostly telepathic 'Danny Phantom.'


"Anything worth doing is worth doing over," says Ember about her costume. "I think animation is cool because there are some things you can't pull off in reality (film/video) that you can do with animation."


"Animation involves fantasy and it's more creative. You can invent your own pace and reality… create worlds. There are no rules or limits," says Baraciel Almada, an anime freak from Tijuana, Mexico, dressed up as Rei Ayanami, the blue-headed babe from 'Neon Genesis Evangelion,' a series that takes place post-Judgement Day in the year 2015 after the human race has been terminated by bio-engineered creatures called Angels. These 'Angels,' however, are more hellish than heavenly.
"Anime has been popular in Mexico now for about 20 years," says Almada. "There's a lot of it on local television and it's all uncensored."

Almada believes that violence in anime isn't a big deal in Mexico because the "culture deals a lot with violence."
"Luchadores (Masked Mexican wrestlers like Nacho Libre) have always been our heroes!"


Rene Worth from Chicago, who dressed up as Ada Wong from the Sony Playstation game series 'Resident Evil' feels violent content can be quite sexy.
"Ada from Resident Evil is my favorite because she's bad ass and cocky in a good way. 'Paradise Kiss' is my favorite anime because it revolves around fashion and love," said Worth.


Michelle Castleberry, president of her high school Anime club in Palmdale, CA says, "Our school doesn't really have a problem with violence in anime. What the school's concerned about is sex and nudity."


"People can handle violence with animated characters," said Christine Falkenhan, whose favorite series is 'Soul Calibur 3'. "I like staff weapons and martial arts and you see them a lot in Soul Calibur."

Almost all anime content contains violence and hints of sexuality, but animation is fantasy and entertainment, and hopefully most human beings understand that. After a day at the Anime Expo, I felt like I was a cartoon character in a comic strip interviewing other cartoon characters.


On my way out of this animated Animation Expo 2006, I ran into Shiva, the Ice Goddess from 'Final Fantasy X'. She didn't really want to talk actually, but I got her photo anyway. There's something about the color blue that just leaves you frozen.