Los Angeles Forum 2002: Report
Takahiro Miyao (Professor, GLOCOM)
---
RealVideo: Los Angeles Forum 2002


Note: To view RealVideo, you need to have RealPlayer G2 or later installed in your computer. You can download the free RealPlayer here.
---
Nobuharu Ono of NTT DoCoMo USA, Lucy Hood of News Corporation, Jonathan Aronson of USC, Francois Bar of Stanford University, Michio Katsumata of Nikkei, Tokyo, and Tsuruaki Yukawa of Jiji Press, Tokyo, are among the speakers and panelists at the GLOCOM-USC joint international forum, which was held at the USC Davidson Conference Center on September 26, 2002. There were about 100 people attending the forum from the start at 10:30 am, and most of them stayed over until the end around 5:00 pm. All the presentations and discussions were excellent and stimulated a lot of discussions among the panelists, involving the audience.
It started with opening remarks by Geoffrey Cowan, Dean of the USC Annenberg School for Communication, and ended with closing remarks by Michael Diamond, Executive Vice Provost of USC. The speeches and panel discussions in between went smoothly as announced in the news release published on September 16 (See Appendix I below, or visit; http://ascweb.usc.edu/news.php?storyID=21).
It is important to note that this forum is the first of the series of conferences on wireless and related topics, organized by GLOCOM, and the next one will be held in Tokyo on November 21, 2002. For more details, see Appendix II below, or visit; http://www.glocom.org/seminar).
---
Appendix I: USC News Release
(http://ascweb.usc.edu/news.php?storyID=21)
CONFERENCE EXAMINES SOCIO-ECONOMIC IMPACTS OF MOBILE/WIRELESS TECHNOLOGIES IN JAPAN AND U.S.
Contact: Geoffrey Baum (USC), 1-213-821-1491
LOS ANGELES, September 16, 2002 — A conference on the socio-economic impacts of mobile and wireless technologies, with comparisons of the current experiences in the United States and Japan will be held on Thursday, September 26 at USC's Davidson Conference Center, 3415 S. Figueroa Street in Los Angeles.
Panels include American and Japanese experts in communications, journalism, entertainment and electronic publishing. Topics will focus on how wireless technology is changing our daily lives in a fundamental way.
"There is a huge wireless communication gap between the U.S. and Japan; this conference intends to bridge that gap," said Larry Pryor, director of the online program at the USC Annenberg School for Communication. "This will be a very forward looking conference. We expect to break ground by bringing together experts from Japan and the US to compare their immediate experiences."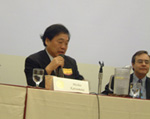 Speakers, drawn from the United States and Japan, include Nobuharu Ono, CEO and president of NTT DoCoMo USA in New York: Dan Gillmor, technology columnist for the San Jose Mercury News, Michio Katsumata, senior editor, Nikkei Newspaper in Tokyo, and Lucy Hood, senior vice president for content, News Corporation, based in Los Angeles.
The conference, which starts at 10:30 am, is presented by the Center for Global Communications (GLOCOM) at the International University of Japan and the USC Annenberg School for Communication, the USC East Asian Studies Center and the Japan American Society of Los Angeles.
The Toshiba International Foundation is the primary sponsor of the conference, with additional support coming from JETRO Los Angeles, the Japan External Trade Organization. Panels conclude at 4:45 pm. Lunch will be provided and the event is free.
Discussions will center on three main topics: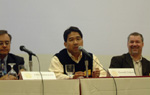 1. The impact of wireless technology on online journalism. Additional panelists include Tsuruaki Yukawa, senior reporter, Jiji Press, Tokyo; Chris Jennewein, director of Internet operations at the San Diego Union Tribune, and Richard Owen, chairman and CEO of AvantGo.
2. The impact of wireless technology on digital entertainment. Additional panelists include include Tapio Anttila, Mobile Entertainment Expert, Brauning LLC; and Robert Tercek, venture manager in North America for MTGP. Tercek will also speak on "Mobile Digital Entertainment" at lunch.
3. International comparisons of wireless technology impacts n the United States, Japan and the European Union. Joining the panel will be Francois Bar, a communications professor at Stanford University, and Elizabeth Fife, at USC's Center for Telecommunication Management.
The keynote speaker is Jonathan Aronson, professor of communications and international relations at USC, who will assess the current state of wireless technology acceptance.
Special focus will be given to the different experiences in the United States and Japan. While Japan appears to be ahead in the area of mobile telephones with Internet connections, such as DoCoMo's i-mode, the Japanese have just started to introduce the idea of wireless LAN connections for the United States for data exchange.
GLOCOM is a social science research institute specializing in the study of the information society as well as Japanese society. It hosts an English-language Web site, http://www.glocom.ac.jp. A second conference on the same topic, with many of the same speakers and panelists, will be held in Tokyo in November.
Located in Los Angeles at the University of Southern California, the USC Annenberg School for Communication is among the nation's leading institutions devoted to the study of journalism and communication, and their impact on politics, culture and society. With an enrollment of more than 1,500 graduate and undergraduate students, USC Annenberg offers B.A., M.A. and Ph.D. degrees in journalism, communication, and public relations.
Appendix II: GLOCOM Platform Tokyo Forum
(http://www.glocom.org/seminar)
The Tokyo forum will be held at the Japan Foundation's International Conference Room (ARK Mori Building, 20F) in Tokyo on November 21 (Th), 13:30 – 17:30. The details are as follows:
The Tokyo Forum:
Theme:
"Socio-Economic Impacts of Mobile/Wireless Technologies: Strategies and Policies"
Date/Time:
Thursday, November 21, 2002
(Forum: 13:30 – 17:30 pm; and Reception; 17:30 – 19:30)
Place:
The Japan Foundation, International Conference Room
(ARK Mori Building 20th floor, Akasaka, Minato-ku, Tokyo)
Program:
13:30 – 13:35:
Opening Remarks:
Hideya Taida (Director, The American Center, The Japan Foundation)
13:35 – 14:00:
Keynote Speech:
Shumpei Kumon (Executive Director, GLOCOM)
14:00 – 15:20:
Discussion 1: Global and National Trends and Strategies
Panelists:
Jonathan Aronson (Professor, University of Southern California)
David Isenberg (President, Isen.com)
Philip Sidel (Assistant Professor, International Univ. of Japan)
Shuji Tomita (NTT Communications)
15:40 – 17:00:
Discussion 2: Community Strategies and Policy Issues
Panelists:
Tim Pozar (Head, Bay Area Wireless Users Group)
Masataka Ohta (CTO, MIS)
Hajime Yamada (Professor, Toyo University)
To be arranged (Policymaker)
17:00 – 17:30:
Comments: Jonathan Aronson, David Isenberg, and Robert Berger
17:30 – 19:30:
Reception