International Symposium on ICT Accessibility in Asia-Pacific Region: Summary
Takahiro MIYAO (Professor, GLOCOM, and Head, Japanese Institute of Global Communications)
---
GLOCOM Symposium on Accessibility
Date/Time:
January 22 (Th), 2004, 10:00 – 17:15
Place:
ACADEMY HILLS, Roppongi Hills 47F, Minato-ku, Tokyo, Japan
Program:
Welcome:

Katsuhiro ONODA (Executive Director, Foundation for C&C Promotion)


Objectives:

Hajime YAMADA (Deputy Executive Director, GLOCOM, and Professor, Toyo University)


Keynote Speech:
"The Future of ICT Accessibility in Asia-Pacific Region"


Jun ISHIKAWA (Professor, University of Shizuoka)


Presentation 1: "Listening to Asia-Pacific Countries"


Panelists:
Mateo A. LEE Jr. (NCWCP, Philippines)
[Video]


Presentation 2: "Exploring Japan"


Panelists:
Hiroyuki TAKEDA (Ministry of Public Management, Home Affairs, Posts and Telecommunications)
Yoshiki SAKAI (Ministry of Economy, Trade and Industry)
Kazuya HOSODA (Microsoft Corporation)
Kazuko YUMA (Institute for International Socio-Economic Studies)
Takuji WADA (IBM Japan Accessibility Center)
Moderator:
Chika SEKINE (President and Founder, Universal Design Institute for Information Technology)


Presentation 3: "Thinking Global"


Panelists:
Monthian BUNTAN (Executive Director, Thai Blind People's Foundation)
[Video]


Closing Remarks:


Shumpei KUMON (Executive Director, GLOCOM)

Organized by:


GLOCOM,
Foundation for C&C Promotion



Supported by:


Ministry of Public Management, Home Affairs, Posts and Telecommunications,
Ministry of Economy, Trade and Industry,
Institute for International Socio-Economic Studies,
Mori Building Co., Ltd,
Microsoft Corporation



In cooperation with:


B.U.G., Inc.,
The first International Symposium on ICT (Info-Communication Technology) Accessibility in Asia-Pacific Region was organized by GLOCOM and the Foundation for C&C Promotion at Academy Hills, Roppongi Hills, on January 22, 2004. The main theme is on accessibility of info-communication services/software/equipment by all people including people with disabilities.
Introduction and keynote speech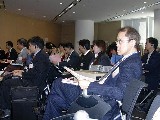 After a welcome speech and a brief explanation about his foundation by Mr. Katsuhiro Onoda (Executive Director, Foundation for C&C Promotion), Professor Hajime Yamada, as the main coordinator, explained about the objectives of this symposium as follows:
As ICT is advancing rapidly, it seems to be providing opportunities as well as risks. Technology can be utilized positively as well as negatively. What we should consider is how to use existing technology positively for the benefit of ourselves. Accessibility must be ensured in order to build an information society, where everyone can be involved effectively. So we need to utilize digital technology for this positive purpose. Regarding the Asia-Pacific region, there are so many countries with different cultures and different economic conditions in this region, which can be regarded as a reduced version of the global conditions in this matter. Therefore, this region may be an ideal testbed for developing and applying appropriate policies and technologies for the promotion of accessibility, and what we can achieve in this region might well be applied to anywhere in the world. The objectives of the symposium are (1) to exchange information about current situations regarding accessibility in various countries in the region, (2) to exchange views among interested groups such as ICT users, service providers, vendors, academia, governments, international organizations, etc., and (3) to consider future collaboration schemes in the region. One thing to be emphasized is that regional collaboration does not necessarily mean financial assistance by developed countries, but should rather focus on exchanging vital information about accessibility among different countries, which can often give useful insight into the solution of accessibility-related problems.
Then, the keynote speech "The Future of ICT Accessibility in Asia-Pacific Region" was given by Professor Jun Ishikawa at the University of Shizuoka. Professor Ishikawa, having visual disabilities himself, explained about his experience as an undergraduate student at the University of Tokyo and a graduate student at SUNY-Stony Brooks, eventually training himself to be able to develop new software and other programs for the visually impaired. In conclusion, he said that he would like to develop further technologies for visually impaired people not only in Japan but also in other Asian countries.
Presentations and discussions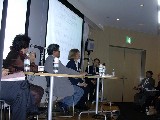 In Presentation 1, four representatives from the Asia-Pacific region, namely, the Philippines, Australia, Thailand and Korea, made their presentations on current situations regarding accessibility in their respective countries. A general impression was that although there seem to be some differences among those countries (for example, better compliance by private companies to accessibility laws in Thailand in contrast to better compliance by the public sector in the Philippines) , each of these countries has come a long way to formulate and implement its own accessibility policy for people with disabilities. A member of the House of Councilors, Susumu Yanase, in the floor of the symposium enphasized the necessity of legislating "ICT Barrier Free Law" in Japan.
In Presentation 2, the moderator, Ms. Chika Sekine, first acknowledged her surprise in learning about the rapidly advancing state of accessibility policies in other Asian countries, although she also noted that Japan has also made substantial progress in this regard for the last ten years. Much of the time in this session was spent on policy issues in connection with two ministries involved in this matter, namely, the Ministry of Public Management, Home Affairs, Posts and Telecommunications, and the Ministry of Economy, Trade and Industry. It is rather rare to see these rival ministry officials appear on the same stage in any kind of public gatherings, and this itself was a significant achievement of this symposium.
In Presentation 3 on "Thinking Global," Mr. Monthian Buntan of Thai Blind People's Foundation said that accessibility tends to fall behind rapidly advancing ICT and therefore the matter of accessibility has become more or less a "voice-raising" activity, because accessibility does not only mean acceptance within the society but also survival of many hundred million people in the world. He then emphasized five key principles: (1) persons with disabilities must be accepted as normal members of the society without any kind of discrimination on the ground of their disabilities, (2) access to information and communication must be regarded as one of the key human rights which are universally recognized, (3) ICT accessibility is good for all members of the society including the elderly, young children, illiterate people, indigenous tribes, etc., (4) all stakeholders within the society must share the burden or responsibility in making all attempts to pursue ICT accessibility, and (5) ICT accessibility makes social, economic and political sense, and they open up and enhance sustainable social development; With these principles in mind, we are ready to move forward at all levels including global level.
Closing remarks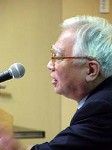 In conclusion, Professor Shumpei Kumon (Executive Director, GLOCOM) made a number of remarks as follows: (1) It should be recognized that ICT can play a powerful role not only in assisting the disabled, but also in enlarging and enhancing the abilities of individuals, leading to more interesting experiences and richer lives for all people with or without disabilities, (2) we had better adopt a kind of value system to appreciate "improvements" rather than "perfection," as it is impossible to achieve perfection in the first place, and appreciation of improvements is more conducive to the development and application of new technologies regarding accessibility, and (3) we might as well distinguish between the elderly and the disabled youth, as the former could not possibly regain the abilities that they used to have when they were young, whereas the latter should be able to utilize their abilities in order to contribute to the society for a much longer time than the former. The former can be more or less taken care of by the market, whereas some collective action may be needed to assist the disabled youth because the market for the latter is bound to be much smaller than that for the former.
Professor Kumon concluded the symposium by saying that "we will continue working on this important theme, and thank you all for your participation today."