IUJ-GLOCOM Platform Joint Seminar: May Meeting Report
Takahiro MIYAO (Professor, GLOCOM, and Head, Japanese Institute of Global Communications)
---
Seminar Summary
[GLOCOM Platform Monthly Seminar]
May Meeting:
Date/Time:
May 10 (Mon), 16:00 - 18:00
Place:
GLOCOM Hall (6-15-21-2F Roppongi, Minato-ku, Tokyo)
Program:
Part 1: 16:00 – 17:00
Speaker: Ippei Yamazawa (President, IUJ)
Topic: East Asian Economic Community and Japan's Strategy
Language: Japanese

Part 2: 17:00 – 18:00
Speaker: Takashi Inoguchi (Professor, University of Tokyo)
Topic: Asia Barometer: Social Capital in Asian Societies
Language: Japanese

The second IUJ-GLOCOM Platform joint seminar on East Asian Community was held in the GLOCOM Hall on May 10, 2004. The following is a summary of the presentations at the seminar.
Part 1: East Asian Economic Community and Japan's Strategy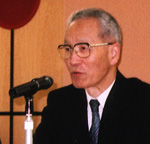 Professor Ippei Yamazawa, President of the International University of Japan, asked whether an economic union like the EU could be achieved in Asia, and answered this question by saying that moves towards formation of an economic community have already begun in East Asia. Regional integration is a gradual process, especially in East Asia, and the difference between the East Asian and Anglo-American standards will remain for a long time to come. Therefore, we should pursue a unique economic system with enough flexibility to embrace all economies in Asia, but at the same time with efficiency and competitiveness to survive in global competition, according to Professor Yamazawa.
A summary paper based on his presentation at the seminar is available at:
http://www.glocom.org/opinions/essays/20040517_yamazawa_east/
Part 2: AsiaBarometer: Social Capital in Asian Societies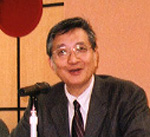 University of Tokyo Professor Takashi Inoguchi explained the aims and some results of his survey of the "AsiaBarometer" project, focusing on the daily lives of ordinary people in Asia. According to Professor Inoguchi, there are three thrusts for the AsiaBarometer project: (1) generating empirical data on people's views and activities, (2) developing a social science research infrastructure, and (3) building a community of scholars in Asia (http://www.glocom.org/opinions/essays/20040202_inoguchi_asia/)
He has completed some empirical analysis of the data acquired from AsiaBarometer 2003. This includes analysis of the concept of social capital, which means trust or confidence in other persons as well as in social groups and social institutions. In order to interpret answers to social capital questions, he has focused on three major dimensions of social capital: (1) general trust in humankind, (2) trust in meritocracy and mutual utility, and (3) trust in social systems. Applying a hierarchical cluster analysis, he has shown that (1) China and Vietnam are very close to each other, (2) Sri Lanka and Uzbekistan are very close, (3) Malaysia, Myanmar and India are very similar, and (4) Japan and South Korea are very close to each other.
In conclusion, social capital is a good concept to gauge Asia's democratic, developmental and regionalizing prospects, and AsiaBarometer is a fascinating, rich and useful laboratory, which deserves financial support from both the private and public sectors in Japan.
An outline of his presentation at the seminar is available at::
http://www.glocom.org/opinions/essays/20040315_inoguchi_social/