International University of Japan's 25th Anniversary Ceremony
Takahiro MIYAO (Professor and Head, Japanese Institute of Global Communications, IUJ)
---
IUJ's 25th Anniversary Commemorative Ceremony
Date/Time:
November 21, 2007; 13:30 - 17:00
Place:
International House of Japan, Roppongi, Tokyo
Program:
13:30 - 14:00


Opening Address: Mr. Yotaro Kobayashi (Chairman, IUJ)
Keynote Speech: Ms. Sadako Ogata (President, JICA)
"Desired Qualifications for True Global Leaders and Roles of International Educational Institutions"

14:00 - 15:15


Round-Table Discussion:
Panelists: Ms. Sadako Ogata, Mr. Yoshikazu Hanawa (Honorary Chairman, Nissan) and Dr. Ippei Yamazawa (Professor Emeritus, Hitotsubashi University) Moderator: Mr. Mikio Watanabe (Editor-in-Chief, Liberal Time)
Closing Address: Mr. Akira Miyahara (Vice Chairman, IUJ)

15:30 – 17:00


Reception

Sponsor:
International University of Japan

The 25th Anniversary Commemorative Ceremony of the International University of Japan was held at the International House of Japan in Tokyo on November 21(W), 1:30-5:00pm.

After a brief opening address by IUJ Chairman Yotaro Kobayashi, the keynote speech was delivered by Ms. Sadako Ogata, President of JICA, on "Desired Qualifications for True Global Leaders and Roles of International Educational Institutions," where she emphasized the following points:
First, JICA is offering unique training assistance to developing countries by inviting trainees to Japan so that they can learn the Japanese way of doing things not only in technical terms but also in broader cultural and social perspectives. Japan can do this because we have experienced the both positions of a recipient and a donor of assistance in the postwar period. Second, we need to understand ourselves better and try to explain the merits of our approach and practice more explicitly to the outside world, especially in order to give effective training to young students and trainees from other countries. Third, Japanese young people should be educated more properly so that they can be aware of their own responsibility to address global issues actively in commensurate with their affluence and economic power in the world.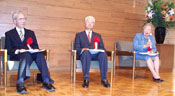 Then followed a round-table discussion with three panelists, Ms. Ogata, Mr. Yoshikazu Hanawa (Honorary Chairman of Nissan) and Dr. Ippei Yamazawa (Professor Emeritus of Hitotsubashi University), moderated by Mr. Mikio Watanabe (Editor-in-Chief of Liberal Time). The discussion centered around the issue of Japanese mindset and leadership development in a glozalizing world, and the role of the International University of Japan in the past and in the future.
This event, emphasizing global leadership, is reflecting new challenges that the university is facing in educating leaders to deal with increasing difficult problems in a rapidly globalizing world. Many of the participants in today's ceremony must have felt that the very survival of Japanese institutions in higher learning, or even the fate of Japan as a nation, is at issue now in terms of their ability to create global leaders to cooperate with their counterparts in other countries.
This report is adopted from the following blog (with its Japanese translation):
http://glocom.blog59.fc2.com/blog-date-20071121.html