Future of Music Industry and Copyright Business: Lecture Summary
Takahiro MIYAO (Professor and Head, Japanese Institute of Global Communications, IUJ)
---
Keio University Special Lecture
Date/Time:
December 12 (Friday) 19:00-21:00
Place:
Keio University-Mita Campus, Minato-ku, Tokyo
Program:
19:00-20:00


Lecture: Future of Music Industry and Copyright Business
Lecturer:
Mr. Kunihiko Murai (Musician)
Moderator:
Prof. Ryuichi Teshima (Keio University)


20:00-21:00


Free Discussion

Organizers:
Graduate School of System Design and Management, Keio University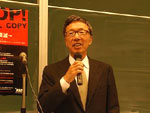 Mr. Kunihiko Murai, international personality in music business and best known as the composer of the popular song "Tsubasa-wo-kudasai" (Wishing for Wings), gave a special lecture on the "future of music industry and copyright business" at Keio University's Graduate School of System Design and Management on December 12. Mr. Murai's talk was based on his long-time experience as a musician as well as a businessperson to manage an international copyright company, initially in Japan and more recently in the US. The following is a summary of his lecture.
The US has long been enjoying its supremacy and prosperity in the economy as well as in music, where the so-called American-style of music may be considered a blend of "melody and harmony" of the European origin and "rhythm" of the African origin, which has become very popular, especially among young people, not only within the US but also everywhere else in the world. Given this historical development, the copyright system which is a product of the Anglo-Saxon culture, has given a solid foundation for music business in the US, Europe and Japan. In fact, these three regions account for as much as 90 percent of total revenue arising from "music copyright" and "neighborhood rights" in the world-wide music industry.
However, the Internet and digital technology are now drastically changing the music industry, just as other industries, throughout the world. Costs of production, reproduction and distribution in music business are substantially reduced due to the IT revolution. As a result, CD sales has rapidly been declining, and traditional record (CD) companies are gradually disappearing. Instead, music downloading seems to be growing steadily, but not fast enough to offset the decline in CD sales. This means that the music industry as a whole will likely be shrinking in the future.
One of the major causes for this shrinkage is illegal downloading, which is taking place everywhere in the world. For example, this year's most popular download music piece in Japan is a song entitled "Sobani-iruyo" (I am by your side), which has been downloaded about 10 million times, according to official statistics. It is estimated, however, that almost the same number of times it may have been illegally downloaded within Japan and probably twenty times more often outside Japan. If this kind of situation continues, the music industry, as we know it, might not be able to survive in the long run. In the meantime, legal arrangements for copyright protection and the concept of copyright itself may well be reconsidered so as to adapt to the IT revolution.
After Mr. Murai's talk, participants raised various questions, ranging from "digital impact on the quality of music" to "causes for high costs in Japan's music business." Mr. Murai sounded more of a musician than of a businessperson, when he answered the question of how to discover and train good musicians in this IT age by pointing out that "good musicians are good from the beginning, and truly good ones are so outstanding that we can find them rather easily even today." Hopefully, the increasing quality of music will be significant enough to offset the declining volume in the music industry as a whole.
References:
Kunihiko Murai:
http://music.goo.ne.jp/artist/ARTLISD1148359/
http://www.sonymusic.co.jp/Music/Arch/MH/kunihikomurai/index.html
This report is adopted from the following blog (with its Japanese translation):
http://glocom.blog59.fc2.com/blog-date-20081213.html