Interview: Child Support Payments in the U.S.
William S. Comanor (Professor, University of California, Santa Barbara, and University of California, Los Angeles)
---

Media Player Click "Media Player" to hear the interview.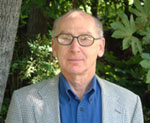 (Photo: Professor William Comanor)
Professor William Comanor (USCB and UCLA) has just published a book, "The Law and Economics of Child Support Payments" (Edward Elgar, 2004), and in this interview he talks about the current situation and problems in the U.S. regarding this subject.
He criticizes the child support system in the U.S. by pointing out that child support payments are currently set at levels which exceed the actual cost of raising children, and "in these circumstances a surprising result is not that so few fathers make child support payments, but rather that so many do."
It would be interesting to compare the situation in the U.S. and that in Japan, where child support payments are set at levels far below the U.S. levels, but still so few fathers make payments.
Reference: William S. Comanor ed. "The Law and Economics of Child Support Payments" (Edward Elgar Publishing Inc., USA, Edward Elgar Publishing Limited, UK), 2004, ISBN 1 84376 121 1
Produced and interviewed by Takahiro Miyao (Head, Japanese Institute of Global Communications)