US Attack on Iran Extremely Unlikely
Dr. Mamdouh G. Salameh (International Oil Economist and World Bank Consultant), and Sean Curtin (Fellow, GLOCOM and Asia Times)
---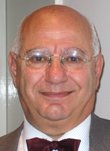 Mamdouh Salameh: In my opinion the United States will definitely not attack Iran, not with missile strikes, not by military force, and certainly not after the debacle in Iraq. Iran has three times the population of Iraq and its size is roughly four times bigger. Therefore, any military offensive would probably require at least 600,000 American troops and these troop numbers are not available. Furthermore, the minute the Americas initiated an attack, even if it was just one missile strike, I think that they would in effect be saying goodbye to all their interests in the Middle East.
Additionally, Iran has one very powerful trump card in the game. That is they can block or mine the Straits of Hormuz. Of course, this would stop Iran's own oil exports, but they would also effectively halt the exports of Saudi Arabia, UAE, Iraq, Kuwait and all other exporters. I believe this situation would precipitate the biggest oil crisis in the world.
I have written three books covering such potential crises, one of them especially focused on potential oil crises. This work is largely reproduced in the Encyclopedia of Energy, in the section on oil crises. My work was selected from all other experts in the oil crisis field, so I feel this demonstrates that the industry considers me to be the leading authority in this area. Of course, I should point out that am not actually referring to a real oil crisis, what I am analyzing are potential oil crises, such as the one that could erupt if Iran is attacked.
For all the reasons I have outlined, I am convinced that the Americans will not attack Iran and are just making threats they have no intention of keeping.
On the issue of an Israeli strike against Iran, I do not think this would be a wise course of action for them to take. The problem would be that if they did strike, Iran would very probably strike them back. It would be unwise to think the Iranians would not want to retaliate, I just cannot see them sitting on their hands. They have their own stockpile of weapons and some of these can reach Israel.
Sean Curtin: Most European analysis on this issue has tended to be from a purely military perspective, focusing on the problems any US engagement would encounter. The general European consensus appears to be that an attack at this juncture is unlikely as the United States is already stretched in Iraq. However, if one reads the American press, then one frequently gets the impression that a strike is indeed a possibility. So, even if Europeans are fairly dismissive of the idea, in Washington this view does hold some currency.
Mamdouh Salameh: Well, this may be true, some people might actually want to attack Iran, but such plans would simply not work. It is a totally impractical idea and I think most of them know this.
Sean Curtin: Recent comments made by [Iranian] President [Mohammad] Khatami and other leaders seem to indicate that Tehran shares your assessment of the situation. They seem convinced an attack is a very remote possibility.
Mamdouh Salameh: I am not aware of what Khatami said, I am purely basing my analysis on what the Bush administration has said.
Sean Curtin: President Khatami recently said, "The possibility of America attacking Iran is very low."
Mamdouh Salameh: In this situation, I hope common sense will prevail and that diplomacy will be the means for resolving the dispute. In the extremely unlikely event Washington does attack, I really think that would be the end of all their oil interests as well as other interests in the Middle East region. It is for this reason I think they will never do it. In all honesty, on the basis of the reasons I have given, I am absolutely convinced they will never attempt it.
Additionally, as I already mentioned, the Iranian military has to be factored into the picture. They have been rearming since the end of the [Iran-Iraq] war. This was while Iraq was hindered from doing so by the sanctions and embargo, leaving it unable to refurbish its armed forces. On the other hand, Iran has been busy equipping itself with all the latest Chinese and Russian weapons and anything else it can obtain. This fact also means that war with Iran is no way inevitable.
Sean Curtin: Even so, I think you have to acknowledge that Washington appears to want to make it clear that military action is an option, even if a distant one.
Mamdouh Salameh: Well, they can talk about it, but is it really probable? If they could not subdue Iraq with 150,000 troops, how on earth are they going to cope with a country the size of Iran? Also, there is the human cost. Even if we take American casualty figures, they have lost at least 1,420 with around 11,000 injured. Now multiple those numbers by a factor of three and you will see the casualty figures would be just too high.
I do not think I can really add any more, I honestly do not think that US military action is feasible or likely.
Profile: Mamdouh G. Salameh
Dr Salameh is an international oil economist, a consultant to the World Bank in Washington and a technical expert of the United Nations Industrial Development Organization (UNIDO) in Vienna. He is also Director of the Oil Market Consultancy Service in the UK and a member of both the Institute for Strategic Studies in London and the Royal Institute for International Affairs. His articles appear in a wide variety of industry journals such as Petroleum Review and Applied Energy.
The above comments were made at Chatham House (Royal Institute for International Affairs) in London on 4 February 2005
Copyright 2005 Asia Times Online Ltd. A few sections from this article have appeared in Asia Times Online, http://www.atimes.com, and those parts are republished with permission.