Taking the pulse of the economy
Tomohiko Taniguchi (Editor at Large, Nikkei Business Publications)
---
The Treasury Division, under the Finance Bureau at the Ministry of Finance, records each month the amount of tax revenues collected by the government. Something interesting emerged around early summer last year and has since continued to show in the statistics (available in Japanese at http://www.mof.go.jp/jouhou/syuzei/siryou/008.htm).
Of note amongst a number of tax items such as income tax, consumption tax, inheritance tax and so on is how corporate income tax, which is the third largest tax item, has behaved. Until May last year the monthly amount of corporate tax revenue had always been below the amount collected in the same month the previous year. Since June last year the reverse has been the case, as is shown below.
| | | | |
| --- | --- | --- | --- |
| year/month | % | year/month | % |
| 2002/11 | 80.4 | 2003/6 | 105.5 |
| 2002/12 | 81 | 2003/7 | NA |
| 2003/1 | 81.3 | 2003/8 | 113.5 |
| 2003/2 | 83 | 2003/9 | 109.9 |
| 2003/3 | 83.9 | 2003/10 | 109.1 |
| 2003/4 | 84.7 | 2003/11 | 101.5 |
| 2003/5 | 92.8 | | |
(Corporate income tax revenue, year on year)
The trend is even more significant if compared to the performances of other large tax items, notably individual income tax and consumption tax, both of which have remained flat at best, and in most cases well below the amount recorded the previous year.
This clearly is testimony to a corporate-led growth that has been going on for some time now.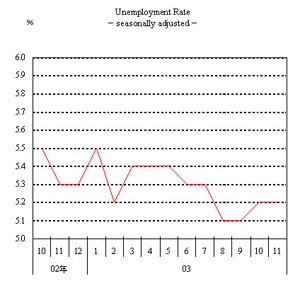 This monthly statistics of collected tax revenues came to be disclosed only recently. Yet precisely because they are virtually real time statistics, they can serve as an index to see what the economy will be like in the months to come.
One way to make a prediction on the economy based on these statistics is to think of the recovery as a job-less growth. This may be true, given first that the growth in corporate tax revenue is rather isolated, so far followed by no other tax items, and second that anecdotal evidence tells us that major corporations such as Sony and Matsushita are busy restructuring their businesses by abandoning lifetime employment systems and seniority-based payment schemes to further streamline personnel costs.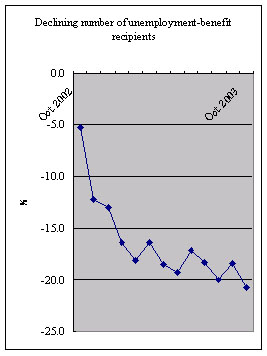 But the drawback of this argument is that the nationís unemployment rate (see the graph) has made a slight downturn, not an upturn. The number of unemployment- benefit recipients has been in constant decline over the last year, as is shown below. It may well be that revived corporate activities as evinced by the increased revenue of corporate income tax are lifting up the overall economy only to be recognised a little more time later, a classic example of a situation that divides the economists into two, pessimists and optimists.